Requests records from Texas Secretary of State in response to Dan Patrick vote by mail application scheme 
Austin, Texas— Today, the Collier Campaign filed a public information request ("PIR") with the Office of the Texas Secretary of State in an effort to determine whether the Texas GOP's handpicked elections chief, and former Trump election lawyer, John B. Scott, gave special treatment to vote by mail applications solicited by Lt. Governor Dan Patrick. The letter can be accessed here.
The PIR is a direct response to Dan Patrick's unsolicited mailing of vote by mail applications ("ABBMs") that included a pre-addressed return envelope to the SOS despite clear, public guidance that applications not sent to Local Elections Clerks would be rejected, and revelations from the Texas Tribune that, roughly one month ago, Secretary of State Scott changed those rules in order "to sort and forward the Patrick-inspired forms to the counties where they should have been sent originally."
This comes as the implementation of SB 1—the Texas elections bill passed in 2021—has resulted in reports of thousands of applications to vote by mail as well as ballots themselves being rejected all across the state. The bill includes a prohibition on local elected officials from mailing unsolicited vote by mail applications to registered voters or even encouraging the practice of voting by mail. The legal prohibition, conveniently, does not apply to partisan elected officials, like Dan Patrick.
TIMELINE
September 7, 2021
Governor Abbott signs SB 1 into law, making it unlawful for non-partisan local election officials to solicit or encourage voting by mail, effective Dec. 2, 2021. Source: Texas Legislature
December 2021 – January 2022
Official SOS guidance states that ABBMs sent to their office will be rejected. Source: Wayback Machine via Texas Tribune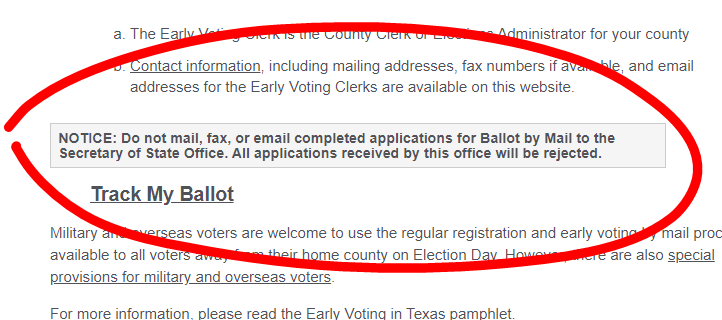 Lt. Governor Dan Patrick sends unsolicited mail ballot applications to voters across the state, using his official state seal. Source: WFAA.
February 16, 2022
Texas Secretary of State John Scott releases video stating that "In order to vote by mail you must make sure your application for a ballot by mail is received by Friday, February 18th at your county early voting clerk's office." Source: YouTube
February 17, 2022
Texas Tribune reports that in early February, Secretary Scott removed guidance stating ABBMs wrongly submitted to his office would be rejected.
The Texas Secretary of State sends "the Patrick-inspired forms to the counties where they should have been sent originally."
February 18, 2022
The last day Local Election Clerks may receive ABBMs to vote in the March 1 Primary.
Lt. Gov. Dan Patrick appears on the Mark Davis Show and says that he directed applications to the Secretary of State's office so there was a "record" of ABBMs.
Texas Democratic Candidate for Lt. Governor Mike Collier issued the following statement:
"The people of Texas deserve to know whether the Texas Secretary of State changed the rules for Dan Patrick and whether other applications—not solicited by Dan Patrick—were rejected prior to the rule change. It seems that rules are always being redesigned to make it more difficult for voters in the state's largest counties but ignored when it favors the Texas GOP. 

"To restore transparency to the office, Secretary of State John B. Scott must release all information relating to ballot applications received by his office in 2022 with a listing of how many were rejected and how many were forwarded to county elections officials around the state.